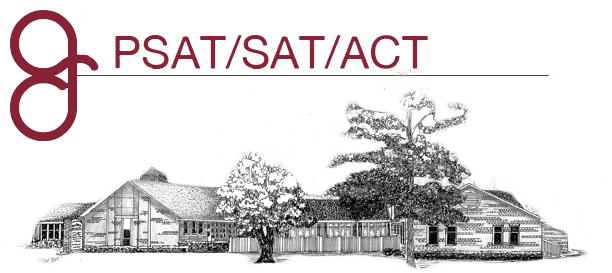 SAT Information
Upcoming SAT Dates, Deadlines, and Score Release Dates

SAT Test Date

Registration Deadline

Score Release Date

November 6, 2021

Oct. 8th

Nov. 19th

December 4, 2021

Nov. 4th

Dec. 17th

March 12, 2022

Feb. 11th

Mar. 25th

May 7, 2022

Apr. 8th

May 20th

June 4, 2022

May 5th

July 13th
Upcoming ACT Dates, Deadlines, and Score Release Dates

ACT Test Date

Registration Deadline

Score Release Date

December 11, 2021

Nov. 5th

Dec. 21st*

February 12, 2022

Jan. 7th

Feb. 22nd*

April 2, 2022

Feb. 25th

Apr. 12th*

June 11, 2022

May 6th

June 21st*
The NEW SAT vs. ACT
The SAT and ACT are two competing examinations for college entrance. Most colleges do not prefer one test over the other. Neither the SAT or ACT is harder than the other. Different students tend to do better on one test over the other. As a suggestion, take the SAT and ACT and see which one you score higher on, then concentrate on that test.
New SAT vs ACT Comparison - from Princeton Review
New SAT vs ACT - Full Breakdown
Should you take the New SAT or the ACT?
Which test should you take? - from Kaplan
PSAT
The PSAT is a College Board examination administered in October of every school year. It is an officially released version of a previously administered SAT exam. The exam is scored from 20-80 for each of the three parts, Critical Reading, Mathematics and Writing. The PSAT itself has NO bearing on college admissions. So, why take it?

A) The PSAT provides you with good information about what you can do to prepare for the SAT examinations you might take later on.
B) The PSAT is used by the National Merit Scholarship Corporation to qualify students for various scholarships based on their Junior year PSAT scores.
C) Colleges and universities use the information from the PSAT as a means to begin communicating with students regarding higher education and financial aid opportunities.
---