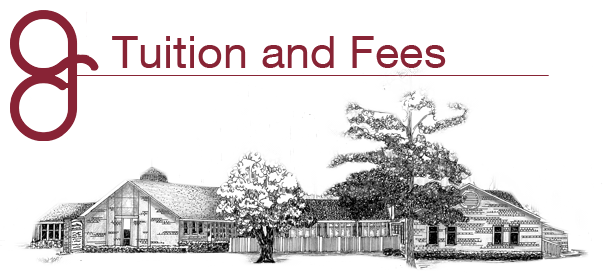 2023-2024 Tuition and Fees

FEES:
Application Fee (non-refundable) $150.00/per child
Re-enrollment Fee (non-refundable) $100.00/per child
     These fees are due at the time the application is submitted.
     Other fees are applicable, including but not limited to, a school polo shirt, gym uniform, and field trips.

TUITION:
Middle School (6th – 8th) $7,400.00
Part-time Homeschooling Middle School $1,100.00/per class
High School (9th – 12th) $8,400.00
Part-time Homeschooling High School $1,200.00/per class

FULL-TIME MULTIPLE CHILDREN DISCOUNT:
The first child is considered to be in the highest grade. Each additional child is discounted 10%. 

PAYMENT TERMS:
i.     There are 10 monthly payments due on the first of each month, August – May.  A late fee of $25 will be added to your account if tuition payments are not received by the 10th.

ii.     Payments that go unpaid prior to the start of the next calendar month may result in probation for the student. Probation can include but is not limited to loss of all extra-curricular activities such as sports and other clubs, loss of field trip privileges including Education and Service Trips, loss of any additional service that may include fees such as Hot Lunch.

iii.     Payments that go unpaid for 60 days or more may result in student withdrawal from class until payments and fees are paid in full.
iv.     In the event that a student withdraws from Grace Christian School voluntarily or otherwise, the tuition expense for that student is required to be paid in full through the end of the semester regardless of the withdrawal date. Fiscal semesters end on December 31st and on the final day of school. Transcripts will not be released if payments are delinquent. Grace Christian School reserves the right to waive this requirement under extreme circumstances.
---