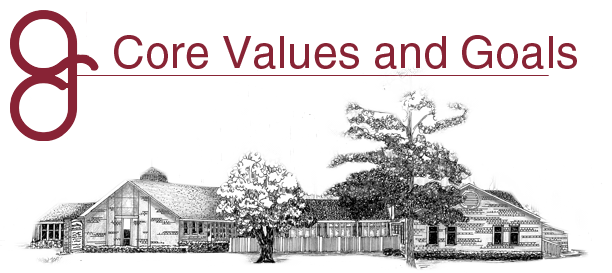 Grace Christian School Foundational Values
We believe God has shown us the following critical core values to promote overall excellence and future development of our students:

Faith
Students Will Be Christians Who:
Understand that God is real and all truth is God's truth.
Believe that the Bible is God's Word and know, understand, and possess apologetic skills that
enable them to articulate and defend their Biblical worldview.
Are empowered by the Holy Spirit to pursue a life of faith, goodness, knowledge, self-control,
perseverance, godliness, kindness, and love.
Understand the worth of every human being as created in the image of God by respecting
and relating appropriately with integrity to people.
Embrace and practice justice, mercy, and peacemaking in family and society.
Understand that work has dignity as an expression of the nature of God by personally carrying
out Jesus' Great Commission locally and around the world.
Are actively involved in a church community, serving God and others.
Supporting Scriptures:

| | |
| --- | --- |
| 1 Peter 3:15 | "..in your hearts honor Christ the Lord as holy, always being prepared to make a defense to anyone who asks you for a reason for the hope that is in you; yet do it with  gentleness and respect" |
| 1 John 5:20 | "We know also that the Son of God has come and has given us understanding, so that we may know him who is true. And we are in him who is true by being in his Son Jesus Christ.  He is the true God and eternal life." |
| 1 John 4:16  |    "And so we know and rely on the love God has for us. God is love. Whoever lives in love lives in God, and God in them." |
| Matthew 28:18-20 | "Then Jesus came to them and said, "All authority in heaven and on earth has been given to me. Therefore go and make disciples of all nations, baptizing them in the name of the Father and of the Son and of the Holy Spirit, and teaching them to obey everything I have commanded you. And surely I am with you always, to the very end of the age." |
| Psalms 78:35 | "They remembered that God was their Rock, that God Most High was their Redeemer." |
| I Peter 3:8  | "Finally, all of you, be like-minded, be sympathetic, love one another, be compassionate and humble." |
| 2 Timothy 3:16-17  | "All Scripture is God-breathed and is useful for teaching, rebuking, correcting and training in righteousness, so that the servant of God may be thoroughly equipped for every good work. |
Academics
Students Will Be Thinkers Who:
Read, write, speak, listen and demonstrate appropriate language and communication skills in diverse academic and social situations.
Are proficient in mathematics, science, and problem solving
Appreciate literature and the arts and understand how they express and shape their beliefs and values.
Have knowledge and understanding of people, events, and movements in history (including church history) and the cultures of other people groups and places.
Value intellectual inquiry and are engaged in the marketplace of ideas (open, honest exchange of ideas).
Supporting Scriptures:
| | |
| --- | --- |
| Proverbs 9:10 | "The fear of the Lord is the beginning of wisdom and knowledge of the Holy One is understanding." |
| 1 Peter 3:15   | "..in your hearts honor Christ the Lord as holy, always being prepared to make a defense to anyone who asks you for a reason for the hope that is in you; yet do it with gentleness and respect" |
| Proverbs 18:15 | "The heart of the discerning acquires knowledge, for the ears of the wise seek it out." |
| Isaiah 33:6 | "He will be the sure foundation for your times, a rich store of salvation and wisdom and knowledge; the fear of the LORD is the key to this treasure." |
Service
Students Will Be Responsible Citizens Who:
Understand, value and engage in appropriate social (community) and civic (political) activities.
Use the skills they have learned to question, solve problems, and make wise decisions.
Are good stewards of their finances, time, and all other resources.
Know how to utilize resources including technology to find, analyze and evaluate information.
Treat others as they would like to be treated.
Take responsibility for their own actions.
Supporting Scriptures:
| | |
| --- | --- |
| John 15:13    | "Greater love has no one than this: to lay down one's life for one's friends." |
| Ephesians 4:2  | "Be completely humble and gentle; be patient, bearing with one another in love." |
| Romans 13:8 | "Let no debt remain outstanding, except the continuing debt to love one another, for whoever loves others has fulfilled the law." |
| Romans 12:10 | "Be devoted to one another in love. Honor one another above yourselves." |
| 1 John 4:11   | "Dear friends, since God so loved us, we also ought to love one another." |
Physical Health
Students Will Be Practiced in Principles of Healthy Living:
1. View their bodies as temples of the Holy Spirit.
2. Value fitness and wellbeing.
3. Develop positive traits and characteristics of sportsmanship, leadership, and integrity.
Supporting Scriptures:
| | |
| --- | --- |
| Romans 12:1  | "Therefore, I urge you, brothers and sisters, in view of God's mercy, to offer your bodies as a living sacrifice, holy and pleasing to God—this is your true and proper worship." |
| 1 Corinthians 3:16-17 | "Don't you know that you yourselves are God's temple and that God's Spirit dwells in your midst? 17 If anyone destroys God's temple, God will destroy that person; for God's temple is sacred, and you together are that temple." |
| Philippians2:3            | "Do nothing out of selfish ambition or vain conceit. Rather, in humility value others above yourselves." |
Grace Christian School School-Wide Goals
Spiritually, our students are purposed to live out their lives as disciples of Christ knowing good works have been prepared for them in advance as members of the church of Christ.
Academically, our students are prepared to achieve in competitive and diverse collegiate, trade, mission, and employment environments representing the light of Christ wherever He calls them to go.
Civically, our students are purposed to volunteer and serve wherever there is a need humbly representing the hands and feet of Christ.
Physically, our students are practiced in principles of healthy living recognizing their bodies are temples of the Holy Spirit.
---