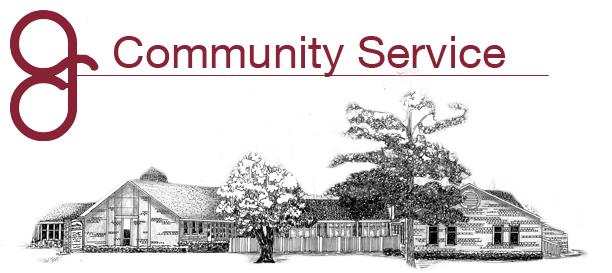 1 Peter 4:10 reminds us that each of us should use whatever gifts we have received to serve others, as faithful stewards of God's grace in its various forms.  In honoring the inspired word of God, GCS is proud to present our Community Service Education Program.  The GCS service program seeks to encourage and inspire students to pursue the use of their gifts and talents to bless and serve others.   All GCS students are encouraged to complete a minimum of 10 community service hours each year.  Prior to graduation, GCS students must complete a minimum of 50. 
We define community service as unpaid voluntary activities that occur outside the school day.  Although we truly respect acts of kindness and good deeds, such as working around home or helping neighbors, we separate good deeds from organized community service.  Community service activities are those which students perform to benefit at least one unrelated person and for which they receive no compensation.  Students should be working under the auspices of an organization—town government, school, non-profit organization, hospital, nursing home, etc.  Service projects sponsored by church youth groups, Boy Scouts, Heritage Girls, etc. are also accepted.  Prior approval, while not required, is strongly suggested to ensure that the community service project will earn the student credit. 
The primary purpose of the program is to encourage students to become aware of the needs and interests of others and to learn to be good servants.  Our community service program is also designed to promote student responsibility.  We have developed a procedure that holds students accountable for submitting completed community service forms.  Students are responsible for turning in completed forms to the main office after performing the service project.  At the close of each school year, students at GCS will be recognized for their service contributions at our spring awards program.  
To download the GCS Community Service Form, please
click here
. 
---