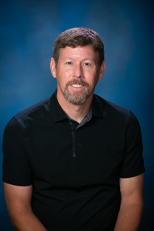 Dwight Hedges, Athletic Director
dhedges@grace-school.net


Rev. Dwight Hedges has lived in the Mechanicsville area for twenty years, serving in church ministry for over thirty years in a wide array of ministry settings.  He grew up in a family of bi-vocational Baptist church planters in Parker, Colorado and has always had a passion for the local church.  He received his undergraduate degree from Southwest Baptist University in Bolivar, Missouri and his Masters in Religious Education from Midwestern Baptist Theological Seminary in Kansas City, Missouri.   He has served on staff in churches in Missouri, Nebraska, and Virginia.  He has a passion for youth ministry and college aged students and a love for Jesus, discipleship, worship and missions.  He has been able to mobilize and lead more than thirty international mission trips and is excited to see how the Lord will continue to move in Mechanicsville as we follow the Great Commission.   Dwight has also worked with an international program at Virginia Commonwealth University, and has served as Associate Pastor at Mechanicsville Baptist for the past four years.  He is married to Gretchen Hedges who teaches Veterinary Sciences at Hermitage High School.  They have four children: Matthew (23), Bryson (18), Ethan (14), and Catherine (13).