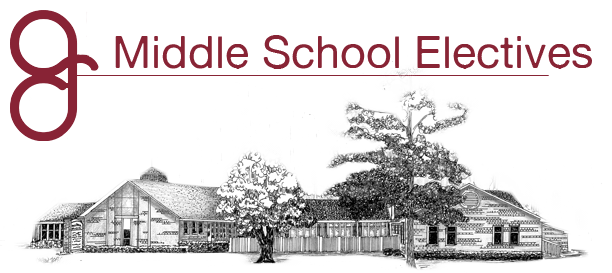 Middle School (Grades 6 and 7) Elective Rotations
Grace Christian School offers a wide variety of middle school electives including STEAM, Technology, Spanish Cultures, and Digital Technology.  Every quarter the 6th and 7th grade take one of these elective classes.  Each elective is a 9 week course so that by the end of the year the 6th and 7th grade classes will have taken all four electives.
---
STEAM
STEAM stands for science, technology, engineering, art, and mathematics.  In this elective, students are introduced to the basic concepts within these disciplines.  This elective expands students' minds and their imaginations using engaging hands-on lessons to solve real world problems. One goal of STEAM is to help students see the talents that God has given them and careers they can pursue to use those talents for His will.

---
Technology
The technology elective was developed to teach students basic computer applications that will be used throughout their middle and high school careers.  Students work to become proficient at Microsoft Office (Word, PowerPoint and Excel) as well as improve their word processing skills and speed.
---
Spanish Cultures
In the Spanish Cultures elective, students are exposed to the Spanish language and the beauty of another people group that God created. This elective class explores the rich culture, geography, people, customs and language of the many Spanish speaking countries throughout the world.  This elective course provides a foundational introduction to the Spanish language courses required for graduation.
---
Middle School Digital Technology
The Digital Technology course is designed to introduce students to the different aspects of technology that are used in today's digital world. It will provide an introduction to basic coding,robotics, 3D printing, digital photography and some of its applications. The course provides opportunities for collaboration, problem solving and improvement of communication.