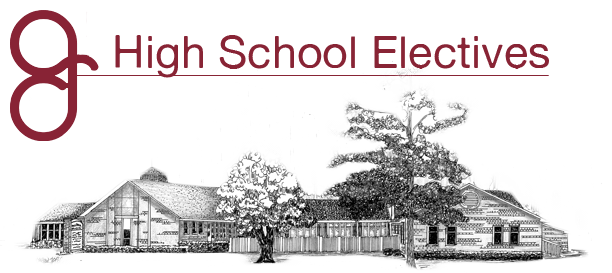 Art
Grace Christian School's high school art program is fueled by the flexibility to create challenging and successful projects designed for various degrees of talent and artistic ability. The teacher also has the flexibility to create the curriculum while being sure to incorporate the appropriate standards of learning as well as biblical integration. High school art is a full-year elective.

---
Mass Communications
As a freshman, students take a mass communications class.  This course introduces students to strategic and journalism aspects of our mass media. It is Grace Christian's goal to help students refine their communication skills through written assignments, peer review, and revision all while honoring Christ. Units of study include teamwork, responsibility, brainstorming, content, coverage, concept, reporting, writing, headlines, captions, photography, design, and graphics. Mastery of the goals set forth in this course fully verse students in all areas of publication production and enable them to pursue journalism with a strong background either in their advanced studies or in a career.

---
SAT Prep
The SAT Prep elective course is a comprehensive course that provides GCS sophomore students with a thorough preparation for all areas of the New SAT exam. The course covers content reviews designed to promote mastery and teach students updated strategies. The SAT prep course is a year-long course, providing students ten months to familiarize themselves with the SAT test format and material.  The course is taught by the high school English teacher and high school Geometry teacher. The teachers rotate every 4.5 weeks in teaching this class so students do not exhaust in a focused study of a single subject.

---
Media Arts
High school juniors participate in a media arts elective. This course provides students with an introductory experience in a variety of media art forms. Using the creative process from start to finish, students produce media arts projects from development and pre-production (idea to script), to production (casting, story-boarding, acting and shooting), post-production (editing, visual effects, sound/music), and distribution to create a video.  Weekly projects are designed to give students the opportunity to learn the basic forms and styles of video production. 

---
Personal Finance High
The personal finance course is a required class for all students during their junior year. The purpose of the course is to empower students with knowledge and application of basic financial principles so that they can make sound economic decisions for life. Students work on academic skills such as communication, mathematics, reading, research and writing. They learn the best way to create a budget to include a specific amount to live, give, and save for the future. The ultimate goal is to foster an understanding and appreciation of ethical money management using Biblical principles.

---
Senior Internship
The senior internship elective is offered to all senior class members and is a required course for all seniors on a standard diploma track. This career-based course provides students the opportunity to consolidate and apply the learning from their high school coursework into a meaningful and relevant on-the job experience. Our goal is to connect students with the world outside of school and to provide them experiences in gaining the skills to go onto further education and/or enter the workforce. Students learn valuable workforce skills and knowledge to apply toward their internship. The class equips our students with a firm foundation in these areas to ensure their success in the workforce.  The Senior Internship class is a way of helping students understand the relevance of academics in relation to what it takes to be successful in the workplace.