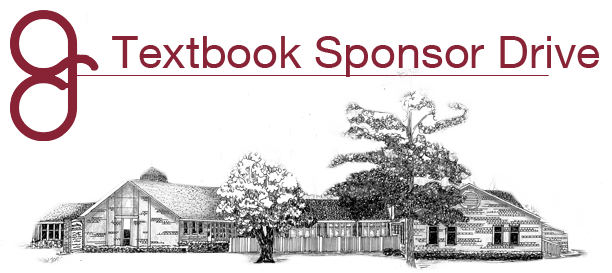 2016 Textbook Sponsorships
Thank you for considering a textbook sponsorship to Grace Christian School. Your tax deductible gift of classroom textbooks and resources will be treasured for many years.
In an effort to accommodate our rapid growth, and to help keep tuition cost down, each year we ask parents to help us connect with local businesses and/or families in considering a textbook sponsorship. All textbooks are the Virginia edition provided by Houghton, Mifflin, and Harcourt Publishing Company unless otherwise noted.
12th Grade Sociology Texts B (3 copies)
11th Grade Language Arts Texts A (2 copies)
11th Grade Language Arts Texts B (2 copies)
Spanish 1B Textbook (3 copies)
Spanish I Workbook (20 copies) 
Algebra I (4 copies) 
Earth Science Textbook A (3 copies)  
Earth Science Textbook B (3 copies)
Earth Science Textbook C (3 copies)
Earth Science Textbook D (3 copies)  
Earth Science Textbook E (3 copies)  
Earth Science Textbook F (3 copies)    
11th Grade US History (4 copies)  
Pre-Calculus Textbook A (5 copies)

$215.00
$220.00
$220.00
$260.00
$300.00
$320.00
$345.00
$345.00
$345.00
$345.00
$345.00
$345.00
$370.00
$500.00
---
TECHNOLOGY NEEDS:
2016 Microsoft Office Home and Student Edition (10 computers) 
Promethean Activslate                                                                     
$300.00
$365.00