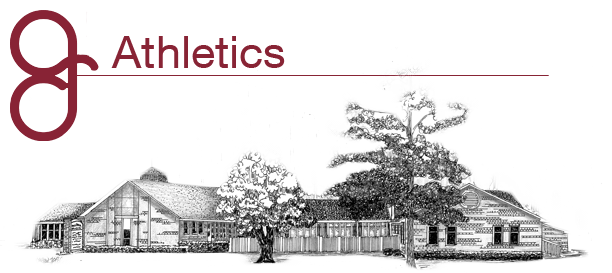 Middle and high school athletic competitions play an important role in our national culture. It is not uncommon for parents and students to share an interest of participation in sports. Athletics are a vehicle that can be used to foster responsibility and cultivate leadership skills in students.  These are qualities that may be taken into consideration when applying to colleges.
Just as in the classroom, GCS is committed to excellence within our athletic department. Concentration will be given towards health, physical development, leadership, perseverance, and integrity in competition.
Teams & Schedules
---
Grace Christian Kings got their 1st win tonight against the Calvary Christian Eagles 28-15. It was a great team effort. Thanks to all who came out to support us. Here's a video of a Britian Pullin assist to a Joshua Britton corner 3 pointer. Our next game is at New Community on Thursday night at 5:30.

Posted by Michael Britton on Monday, December 7, 2015
---
Athletic Requirements, Forms & Fees
All GCS athletes must complete the forms below before they are allowed to practice or compete with the school team. Students must also have met the minimum academic requirements.

Students that are successful in earning participation on an athletic team will be required to pay the athletic fees and sign the equipment usage agreement, if applicable.
An athletic fee of $100 must be paid for each sport a student participates in throughout the year. If a student participates in more than one sport per season, the fee is $75 for the second sport. Athletic fees contribute to costs associated with operating the athletic program such as officiating, equipment, and facilities.
---
Athletic Director & Coaches
Laci Whitlow
Athletic Director and High School Cheerleading Coach
lwhitlow@grace-school.net

Mrs. Whitlow is a graduate of Virginia Commonwealth University where she received a Bachelor of Arts in English Education.  In 2003, Mrs. Whitlow received the award Henrico County New Teacher of the Year.  In 2009, she received the national award Who's Who Among America's Teachers.  In addition to her classroom experience, Mrs. Whitlow is a certified Laying the Foundations National Trainer, a math and science initiative targeted to transform classroom teaching practices.  Mrs. Whitlow, her husband Chris, and their two children live in Mechanicsville.  They are members of Poplar Springs Baptist Church.

---
Gerry Greene II
Middle & High School Boys' Basketball Coach

Coach Greene is a graduate of West Point High School, where he played on the Varsity Basketball Team.  While there he was named 2006 Defensive MVP and was awarded a spot in the 2006 Norlan Shrine All Star game as a member of the Tidewater District All Star Team.  He currently attends Living Waters Church in Dutton, Va with his wife Cody and son Grady.  He is an active participant in the Praise and Worship team, playing drums and bass.



---
Mary Catherine Piland
Middle School Girls Cheerleading Coach

Mrs. Piland is a lifelong resident of Hanover County. She earned a Bachelor of Science Degree in Psychology and a Master of Teaching Degree from Virginia Commonwealth University. She also completed the course work for a Gifted and Talented Endorsement from the University of Virginia.
Before starting her family, she was a classroom teacher with Hanover County Public Schools. Mrs. Piland is a former cheerleader and gymnast with many years of experience. In her free time she enjoys physical fitness, singing, musicals, fishing, baking, and watching college basketball. She and her husband have two children. Mrs. Piland is a member of Mount Vernon Baptist Church in Glen Allen, Virginia.



---
Angie Vaughn
Middle School and High School Varsity Girls Volleyball Coach

Mrs. Vaughan is a lifelong resident of Hanover County.  She studied at VCU in the Arts program, and recently received an Associate's Degree in Elementary Education from the University of Phoenix. Mrs. Vaughan has been a substitute teacher for Liberty Christian School for several years, and has been a substitute teacher for Grace Christian School since November 2013.  She and her husband, Phil, have three children, Nick, Nathan, and Alyssa.  Mrs. Vaughan and her family are active members at Gethsemane Church of Christ, where she sings on the praise team and in the choir. She is passionate about volleyball and is thankful for the opportunity to coach the girls' volleyball teams. Her hobbies are gardening, singing, drawing, painting, and reading.