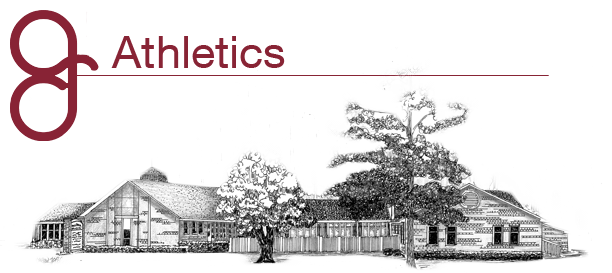 Middle and high school athletic competitions play an important role in our national culture. It is not uncommon for parents and students to share an interest of participation in sports. Athletics are a vehicle that can be used to foster responsibility and cultivate leadership skills in students.  These are qualities that may be taken into consideration when applying to colleges.
Just as in the classroom, GCS is committed to excellence within our athletic department. Concentration will be given towards health, physical development, leadership, perseverance, and integrity in competition.
Spring Sports Practice/Game Schedule

Click the link below to view, download or print a pdf with the current Spring Sports practice/game schedule.
Fall Sports Practice Schedule

Click the link below to view, download or print a pdf with the current Fall Sports practice schedule.
Winter Sports Practice Schedule

Click the link below to view, download or print a pdf with the current Winter Sports practice schedule.
---
Teams & Schedules
---
Videos
---
---
Athletic Requirements, Forms & Fees
All GCS athletes must complete the forms below before they are allowed to practice or compete with the school team. Students must also have met the minimum academic requirements.

Students that are successful in earning participation on an athletic team will be required to pay the athletic fees and sign the equipment usage agreement, if applicable.
An athletic fee of $100 must be paid for each sport a student participates in throughout the year. If a student participates in more than one sport per season, the fee is $75 for the second sport. Athletic fees contribute to costs associated with operating the athletic program such as officiating, equipment, and facilities.
---
Athletic Director & Coaches
Brian Shay
Athletic Director and PE Teacher
pe@grace-school.net


Coach Shay is a graduate of the University of Dayton with a B.S. in Elementary Education and Marygrove College with a Master's degree in The Art of Teaching. He also completed his Administrative Degree from the University of Dayton. Coach Shay spent over twenty years in Ohio as a classroom teacher, coach, athletic director and an administrative leader.

In 2010, he was called to leave the education field behind and travel north to Wisconsin to work at Rawhide, a Christian boys' ranch for troubled teens. After one year, God lead him to Virginia where he spent two years as middle school math teacher in Henrico County Public Schools.

Coach Shay is ardent about seeing people of all ages growing in their relationship with the Lord, experiencing a heart transformation and applying God's principles to their lives. His personal motto is, "it's not just about knowing, it is about DOING. It's not enough to know the will of the Father, it is about living it." Coach Shay, his wife Angela, and their daughter Ainsley, are members of Fairmount Christian Church.
---
Susan Cole
Soccer Coach

Ms. Cole received her undergraduate degrees in Secondary Education and Bible from Johnson University, Knoxville, Tennessee. She earned her Master's of Art in Education from Johnson as well. Ms. Cole completed her internship teaching in two public middle schools in Tennessee and a private Christian school in Tao Baja, Puerto Rico. Virginia-raised and educated, Ms. Cole is excited to be teaching HS History in her third year at GCS. Outside the classroom, Ms. Cole enjoys playing soccer, reading anything and everything, and meeting new people. Living in Richmond City, Ms. Cole is an active member of Area 10 Faith Community.

---
Amy Martin
Cross Country Coach

Mrs. Martin is a graduate of James Madison University where she earned her degree in Psychology with a minor in Special Education.  As a licensed Virginia educator, Mrs. Martin has more than 12 years of teaching experience with students of differing ages and abilities in both public and private schools. Mrs. Martin is a lifetime resident of Mechanicsville.  With her husband and four children, she actively attends Harvest Christian Fellowship where she has served in the children's ministry for over 20 years.
---
Todd Martin
Varsity Boys' Basketball Coach

Coach Martin is a graduate of Eastern Mennonite University with a B.S. in Business. While at EMU,  he was a starter for the basketball team, and later coached the EMU women's basketball team for one year before moving to Mechanicsville.  Coach Martin has been married to his wife, Amy, for 24 years.  They have been blessed with four children, Jordan, Nate, Cassie, and Drew.  While being a father, he has had multiple opportunities to coach through Mechanicsville Little League, Hanover Youth Basketball, Upwards Basketball, and Upwards Flag Football. 

Coach Martin is passionate about the game of basketball and teaching young people the fundamentals to be successful on and off the court.  Above all else, he wants to see people come to know Christ as their Lord and Savior and to help nurture their relationship with Him. 

Coach Martin is employed by Eagle Home Mortgage as a Branch Manager and has been in the mortgage industry for 25 years.  He enjoys playing basketball, golfing, and playing games of all kinds.  He and his family are active members of Harvest Christian Fellowship in Mechanicsville.

---
Mary Catherine Piland
Middle School Girls Cheerleading Coach

Mrs. Piland is a lifelong resident of Hanover County. She earned a Bachelor of Science Degree in Psychology and a Master of Teaching Degree from Virginia Commonwealth University. She also completed the course work for a Gifted and Talented Endorsement from the University of Virginia.
Before starting her family, she was a classroom teacher with Hanover County Public Schools. Mrs. Piland is a former cheerleader and gymnast with many years of experience. In her free time she enjoys physical fitness, singing, musicals, fishing, baking, and watching college basketball. She and her husband have two children. Mrs. Piland is a member of Mount Vernon Baptist Church in Glen Allen, Virginia.



---
Angie Vaughn
Middle School and High School Varsity Boys and Girls Volleyball Coach

Mrs. Vaughan is a lifelong resident of Hanover County.  She studied at VCU in the Arts program, and recently received an Associate's Degree in Elementary Education from the University of Phoenix. Mrs. Vaughan has been a substitute teacher for Liberty Christian School for several years, and has been a substitute teacher for Grace Christian School since November 2013.  She and her husband, Phil, have three children, Nick, Nathan, and Alyssa.  Mrs. Vaughan and her family are active members at Gethsemane Church of Christ, where she sings on the praise team and in the choir. She is passionate about volleyball and is thankful for the opportunity to coach the girls' volleyball teams. Her hobbies are gardening, singing, drawing, painting, and reading.