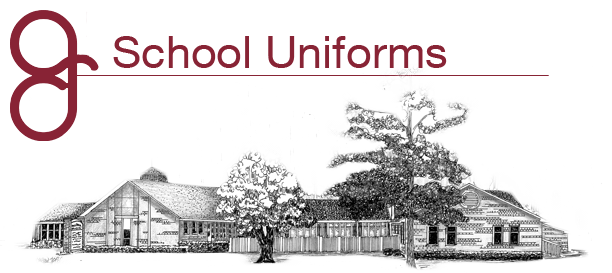 Uniform Philosophy (I Peter 3:3-4)
The GCS uniform policy is designed to minimize classroom distractions, reduce the emphasis on outward appearances, and create school spirit. The cooperation of the student and the parent is necessary in maintaining the standards of the uniform dress code.  Adherence to the uniform dress code is a family responsibility.  Dress code violations will be recorded.   Repeated violations will result in disciplinary action.
Uniform Dress and General Dress Requirements
Each student is required to wear uniform clothing to school each day unless otherwise indicated. Approved uniform clothing can be purchased from any department store (Lands End, Target, Old Navy, etc.) and be free of any logo, graphic, or name brand other than the school logo. Additional shirts and other apparel will be available for purchase at orientation and throughout the year. Students are allowed to wear the "spirit wear" t-shirts on Fridays with a school uniform pant or skirt. 
Sweatshirts & Fleece Jackets – Students may wear pull over sweatshirts or fleece jackets during the school day in grey, white, or burgundy colors (no prints or graphics) OR students may purchase a Grace Christian School sweatshirt from the school bookstore. The GCS sweatshirt may be worn throughout the week.

Spirit Wear- Students may purchase Grace Christian School long or short sleeve t-shirts. The spirit wear t-shirts may be worn only on Fridays with uniform pants or shorts.

Pants & Shorts -

Boys – Boys may wear khaki style or corduroy pants and shorts with no more than 4 pockets (no cargo pants or shorts). Jeans are not permitted unless otherwise noted. Acceptable colors include shades of khaki, navy, and grey.
Girls – Girls may also wear khaki style or corduroy pants, Capri's, or shorts with no more than 4 pockets (no cargo pants or shorts). Jeans are not permitted unless otherwise noted. Acceptable colors include shades of khaki, navy, and grey. Skirts, skorts, and dresses are permitted but must, at minimum, must be longer than your fingertip and conservative in length.
All - All shorts must be longer than your fingertip when standing. Ripped, torn, and tattered clothing is not permitted. All clothing must fit (not too baggy and not too tight)


Shoes & Socks – Students are to wear neat shoes such as dress shoes, athletic shoes or boat shoes to school each day. Open toe, backless, heals, and flip-flops are not permitted. Socks are to be plain white, black, khaki, grey or navy.
Outside Clothing- Grace Christian School does not have a uniform policy regarding students' outdoor clothing. Scarves and hats will need to be removed and stored in a student's locker.

Additional requirements – Hair should be well groomed and of natural color tones. Facial hair is not permitted on students. Boys may not have any pierced jewelry.  
Free Dress Days
The last Friday of each month students are welcome to participate in free dress. Free dress clothes may not be ripped, torn, or tattered. Clothing must meet general conservative dress requirements.
Physical Education Clothes
Each student participating in a Physical Education class will be required to wear a school issued gym uniform. Please make every effort to keep the uniform clean from odor and stains. Athletic footwear and socks are also required for physical education.
Students will not be permitted to participate in PE unless they are wearing a proper PE uniform. 
Only solid-colored white, gray, navy or black sweatpants are allowed.  No lettering or prints are allowed.
Socks and athletic shoes are required. Any student not dressing out will receive a zero for the day.
Ordering School Clothes
School clothing can be purchased by GCS families several times throughout the year using our convenient online ordering program. To place an order for school apparel, please click here.
---