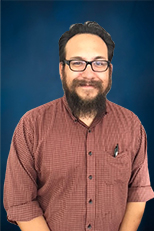 Ben Berumez, Chapel Band Director
benberumez@gmail.com


Ben Berumez is a performing musician and instructor. Offering instruction in a wide variety of instruments and genres, Ben enjoys sharing his love of music with students of all ages. With over a decade of teaching experience, his teaching methodology centers around tailoring information to each student's needs and goals. As a performer, he has worked as a solo act and as the front man for the indie rock band Saint Square. Ben has also been involved with multiple church bands, working in support and leadership roles. Whether teaching, performing, or leading in worship, it is Ben's goal to provide a quality musical experience. Ben, his wife Chelsea, and their two daughters live in Aylett, VA, and attend Freedom Fellowship Church in Mechanicsville, VA..