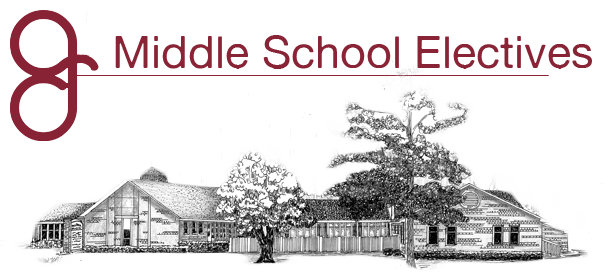 At Grace Christian School, elective and fine arts courses play an essential role in our academic program.  Beginning in middle school, students are exposed to a fine arts curriculum that encourages both creativity and skill development.  James 1:17 reminds us that every good gift comes from God above.  Our goal at GCS is to provide a fine arts curriculum that honors the talents God has given to our students.

Art:
In Art class, students have the opportunity to explore a variety of mediums, study art history, and relate art to other areas of academics. Students study the elements of art (line, shape, form, color, value, texture, space) and the principles of design (pattern, rhythm/movement, proportion/scale, unity, contrast, balance, emphasis) and implement them to create works of art. Learning to critique works of art is also taught. Creativity and imagination is always encouraged.  
---
Drama:
In Drama class, students explore the basics of theater and acting through games, exercises, playwriting, and performing. During the first half of the 9 weeks, students learn theatrical terms, develop vocal skills and movement, and experiment with improvisation and levels of tension. A brief introduction to set design, lighting, and make-up is also incorporated into the class. The last half of the 9 weeks is spent putting into practice many of the skills the students have learned for a final a showcase performance. 
---
Music:
In music class, students explore the Five Elements of Music:  rhythm; melody; texture; timbre; and form. During the first half of the 9 weeks students experience these musical concepts through games, listening, singing, movement, and playing percussive instruments.  During the final half of the 9 weeks, students rehearse several musical selections, including singing, dancing and playing instruments, to be performed in a grand finale showcase. 
---